Mara Enciu '19
B.A. Educational Ministries, Bible and Theology
"It's not a volunteering thing, it's my life now." As a graduating senior, Mara Enciu, had her life changed at Multnomah University and credits the fulfillment of her dream of coming to Multnomah to the generosity of donors. Mara was born in Romania and traveled the world from a young age with her mother, who is a missionary and traveling linguist. She knew college wouldn't be possible without the aid of scholarships. During her time at Multnomah, Mara has not only received financial support in the form of scholarships to attend college, but has also received support from professors to begin healing from her experience with domestic violence. Mara feels called to help women with similar experiences make a lasting impact for Christ. She hopes to continue the legacy of Multnomah as she and her fellow alumni strive to create a better place for their community and go out into the world on mission.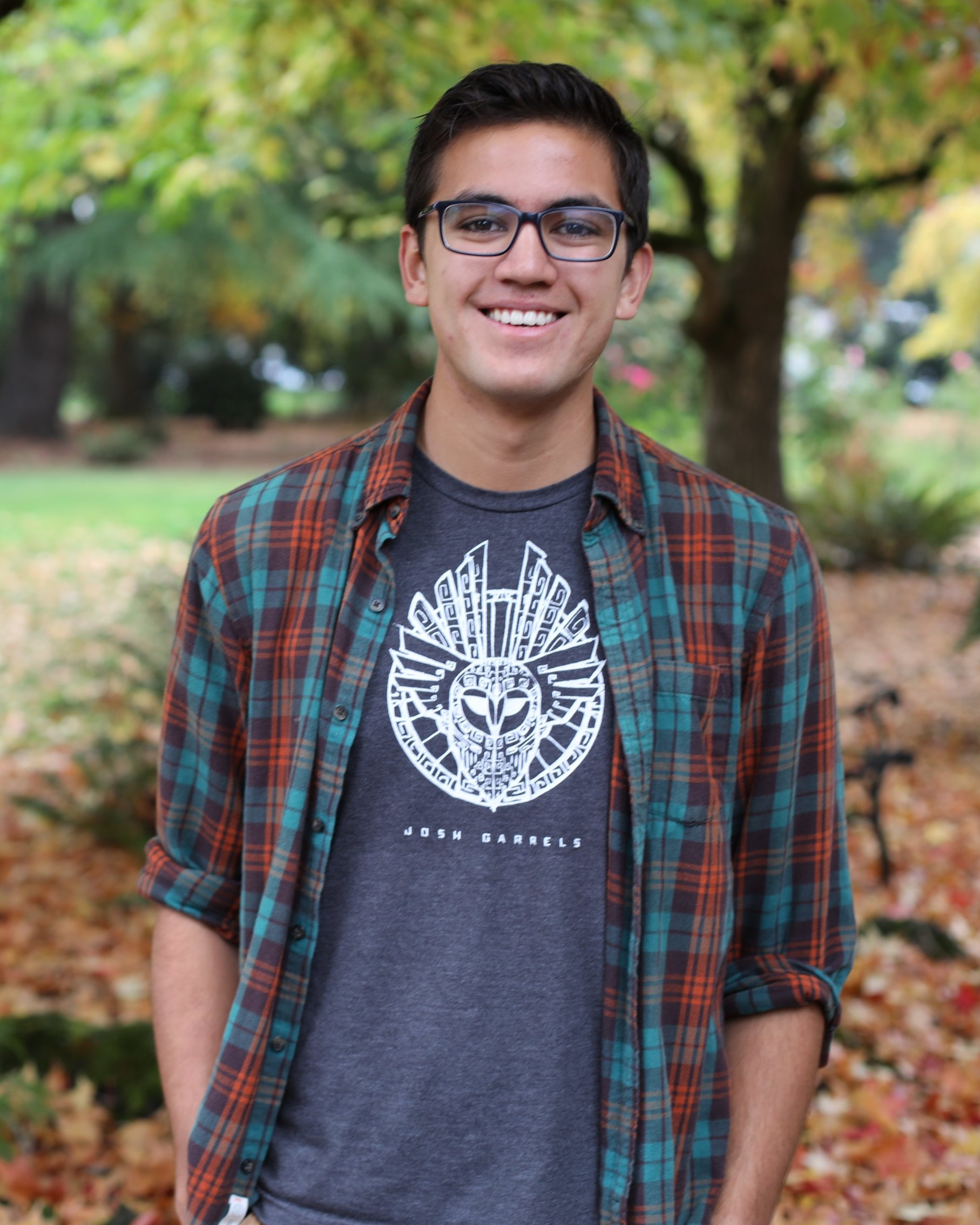 Benjamin Quezada '18
B.A. Bible and Theology and M. Div. ('20)
As the children of Multnomah University alumni, Ben and his siblings grew up in Oaxaca, Mexico witnessing their parents' faithfulness to God's call in their lives to be missionaries. When it was time for Ben to decide where to attend college, Multnomah was a natural front-runner based on his parents' experience as students. He knew Multnomah would provide the biblical training and mentorship he wanted. The professors at Multnomah taught Ben the best way to feel a sense of belonging is to serve. Ben latched onto this wisdom and began his position as a resident assistant in the dorms on campus and leading worship during chapel.
Although Ben yearned to go back and serve in Mexico, he learned from the sound biblical teaching of his professors to go wherever God leads. As Ben has followed God's lead, he's decided to remain in Portland after he graduates to find more ways of volunteering in the city. Multnomah University has transformed the way Ben views ministry. His professors helped him understand sharing Christ with those around him can happen from a church pulpit or in the streets. Ben knows wherever he is, and whatever he does, he is able to serve Christ well by loving others.
Justin Curtiss '13
B.A. Theology and History
Justin knows his spiritual formation at Multnomah University is the ground beneath his feet as he takes on the world of law. He has woven together an unlikely pairing by using his Bible and Theology degree from Multnomah University and applied it to his work as an Attorney at Law. The Christ-centered approach to his education at Multnomah set a strong foundation for his current role in a secular law firm. He knows his experience and current job was shaped by the mentors and connections he made at Multnomah.
Joshua '12, '14 and Michelle '14 Moore
B.A. Psychology and M.A. Counseling, M.A. Counseling
Joshua and Michelle are co-owners of a private behavior therapy practice in Vancouver, WA. Their experience in the Master of Arts in Counseling degree at Multnomah University has prepared them to specialize in areas such as autism spectrum disorder, trauma, depression, anxiety, and traumatic brain injuries. Multnomah was monumental in setting a spiritual foundation in how they care for others, and the reason why they want to bring healing to hurting people. As a way of giving back to the Multnomah community, Joshua invests in students through guest lecturing in various classes at Multnomah and has a desire to teach more courses.
Jennifer Rodrigues Bell '18
M.A. Global Development & Justice
Though Jennifer wasn't sure how should we use her degree when she started at Multnomah, she trusted God to make her next steps clear, and He did just that. Jennifer has combined her MA from Multnomah with her nursing degree and works in an alternative high school in North Portland as the school nurse. Her job involves a lot of psycho-social health management, building relationships and trust with her students, and helping them find resources and constructive outlets. She is also working to start up Parent Life through Portland Youth for Christ, where they aim to support and empower teen parents through loving, Christ-sharing relationships.
Larry '84 and Dianne '84 Burke
B.A. Biblical Studies
Larry and Dianne graduated with their Bachelor's in Biblical Studies from Multnomah University in 1984. The Burkes worked for more than 20 years overseas in Chad with Wycliffe Bible Translators. While abroad, they raised four children and completed a New Testament translation in a local language. Larry has served as Regional Director and Country Director for Wycliffe and currently works as the Africa director for Faith Comes by Hearing. Dianne is a Registered Nurse and worked as a Bible Translator and member care specialist for Wycliffe. They were chosen for the 2018 Alumni of the Year Award. "It was a high privilege to walk alongside so many [staff and students] who had taken up Dr. Mitchell's challenge to 'fall in love with the Savior,'" said Dianne.
Julia Glanz '16
B.A. Biblical and Theological Studies, MA Biblical Studies (in progress)
Julia is preparing for a future as a seminary professor after she graduates with her Master of Arts degree in Biblical Studies from Multnomah University. Her thirst for biblical knowledge led her to pursue deeper connections and mentorships at Multnomah. As she graduates from Multnomah, professors from renowned seminaries are anxiously anticipating her application for their Ph.D. programs because of her degree from Multnomah Biblical Seminary. She is excited to take her biblical learning from Multnomah and apply it to her future career as a professor.